An All-on-4 Procedure Can Replace Your Unwanted Partial Dentures
When I had a partial, I just didn't like the idea of taking it off and then brushing your teeth, and then looking in the mirror and like, "Uh-oh, no." At the back of my mind, it's always like, "What if it suddenly breaks and it falls out?" And one day, the tooth that is holding the partial is starting to move. So, that's when I decided that it's time to go see Dr. Silegy in Long Beach, California. On surgery day, Dr. Silegy really made me comfortable. And then after that, "Okay," he said, "We're going to give you your anesthesia now." And I woke up with beautiful teeth. That's it.
Lucille is a very interesting case, and kind of a classic case of someone who had a lot of crown and bridge work done that, over time, really didn't hold up. I presented her the option of an All-On-4 dental implant solution, and she embraced it, and had just a fabulous result. She's able to chew, she's able to function. It took years off of her appearance, and she's a very, very happy person.
Now that I have my implants, I feel really confident. I'm so excited, too, because when we go to a restaurant, I can eat whatever I want and chew the food really well, too. So, no problem, no pain, nothing. Even after the procedure or I had my temporary then they put the permanent, there was no pain at all. Growing up, I always had problems with my teeth. I always say that a dentist always has to be my best friend. Dr. Silegy promised me that I will have the prettiest teeth, and he delivered. I would recommend Dr. Silegy to everybody.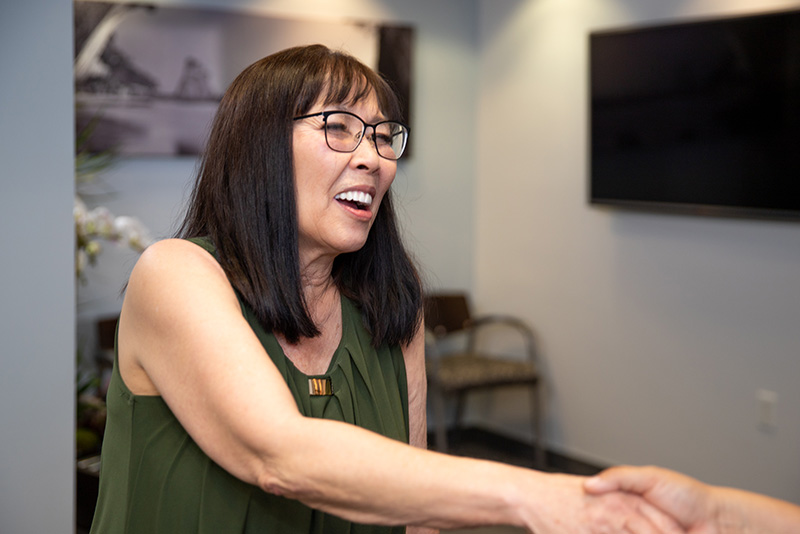 Come See Our Difference For Yourself.
Reserve your first visit with our team today!
I understand the information disclosed in this form may be subject to re-disclosure and may no longer be protected by HIPAA privacy regulations and the HITECH Act.