Restore Your Confidence With an All-on-4 Procedure in Long Beach, CA
A smile means everything to me and that was the problem that I had before I had this done. For many years, I was self-conscious. I didn't want to smile. I covered my mouth when I laugh. I'm a very social person so this involved picture-taking, anything social. I was very self-conscious and I was really losing confidence in myself and it was for many years. I had a lot of dental issues on the bottom part of my mouth. And I went to my dentist and he said, "Well, we're going to try a partial." And I tried it. And I just, I couldn't stand it and I went back to him and I said, "I can't do this" and he said, "Well, there are a couple of other options, but the one that's best for you would be an All-on-4 implant bridge." When I came in the office to meet with Dr. Silegy, he explained everything that he was going to do. So I fully understood the whole procedure.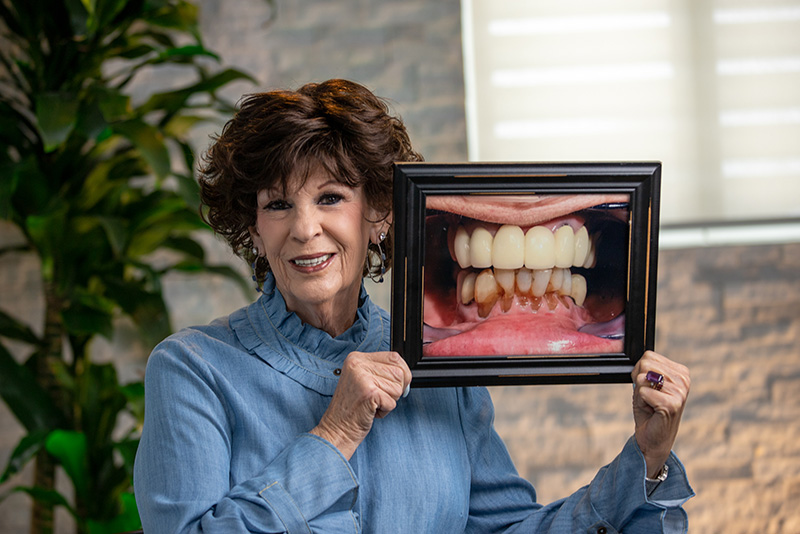 There's certain patients that come into your office, that you just kind of instantly bond with and Shari is one of these patients. She came to me referred by her general dentist for placement of 2 implants, to stabilize a lower partial denture, that she was trapping food under and  it became very painful and I suggested a lower all-on-4 treatment plan, which she embraced and she just had an absolutely wonderful result. It's really been life-changing to her in terms of eating and speaking and just living a normal life.
For any of you that are watching this and are conflicted or apprehensive, there's no pain involved at all. With Dr. Silegy in Long Beach, California, he keeps you very comfortable. He checks on you constantly. His staff, total staff, treats you like family. Prior to having the surgery, for years, I was not feeling good about myself. I was very self-conscious. It affected my self-esteem. Now, I can keep my head up and be proud. It's a new life.
Come See Our Difference For Yourself.
Reserve your first visit with our team today!
I understand the information disclosed in this form may be subject to re-disclosure and may no longer be protected by HIPAA privacy regulations and the HITECH Act.